Founded: 2006
2019-20 (13th Edition): League Abandoned
Current Champions: NEROCA FC (2016-17, 11th Edition)
Most Championships: NISA (5 titles)
table
2019-20 League Table
| pos | team | p | w | d | l | gf | ga | gd | pts |
| --- | --- | --- | --- | --- | --- | --- | --- | --- | --- |
| 1 | Muvanlai Athletics | 7 | 6 | 0 | 1 | 14 | 6 | 8 | 18 |
| 2 | NISA | 7 | 5 | 2 | 0 | 20 | 7 | 13 | 17 |
| 3 | NEROCA FC | 6 | 5 | 1 | 0 | 22 | 7 | 15 | 16 |
| 4 | United Khawzim Brothers | 7 | 4 | 2 | 1 | 18 | 10 | 8 | 14 |
| 5 | Southern Sporting Union | 6 | 3 | 2 | 1 | 12 | 7 | 5 | 11 |
| 6 | Yarkhok United FC | 7 | 3 | 2 | 2 | 7 | 7 | 0 | 11 |
| 7 | Young Physique's Union | 6 | 3 | 1 | 2 | 12 | 7 | 5 | 10 |
| 8 | NACO, Nambul Mapal | 7 | 3 | 1 | 3 | 8 | 13 | -5 | 10 |
| 9 | Sagolband United | 8 | 3 | 0 | 5 | 7 | 10 | -3 | 9 |
| 10 | Ganggam SC | 8 | 3 | 0 | 5 | 12 | 19 | -7 | 9 |
| 11 | AIM Club | 7 | 2 | 0 | 5 | 14 | 23 | -9 | 6 |
| 12 | AFC, Thoubal | 8 | 0 | 4 | 4 | 12 | 24 | -12 | 4 |
| 13 | KLASA | 6 | 0 | 1 | 5 | 2 | 10 | -8 | 1 |
| 14 | TRAU FC | 0 | 0 | 0 | 0 | 0 | 0 | 0 | 0 |
| 15 | DM RAO | 6 | 0 | 0 | 6 | 1 | 11 | -10 | 0 |
fixtures & results
2019-20 Season
| date | home | result | away |
| --- | --- | --- | --- |
| 6 February 2020 | Yarkhok United FC | 1-0 | Sagolband United |
| 9 February 2020 | KLASA | 0-2 | NISA |
| 9 February 2020 | DM RAO | postponed | TRAU FC |
| 10 February 2020 | United Khawzim Brothers | 0-3 | Muvanlai Athletics |
| 10 February 2020 | NEROCA FC | 3-1 | Ganggam SC |
| 11 February 2020 | AIM Club | 1-2 | NACO |
| 11 February 2020 | Southern Sporting Union | 5-2 | AFC |
| 12 February 2020 | KLASA | 0-2 | Young Physique's Union |
| 12 February 2020 | DM RAO | 0-1 | Sagolband United |
| 13 February 2020 | United Khawzim Brothers | 2-2 | NISA |
| 13 February 2020 | NEROCA FC | postponed | TRAU FC |
| 14 February 2020 | AIM Club | 1-2 | Muvanlai Athletics |
| 14 February 2020 | Southern Sporting Union | 1-2 | Ganggam SC |
| 15 February 2020 | AFC | 0-0 | NACO |
| 15 February 2020 | DM RAO | 0-1 | Yarkhok United FC |
| 16 February 2020 | United Khawzim Brothers | 2-1 | Young Physique's Union |
| 16 February 2020 | NEROCA FC | 2-1 | Sagolband United |
| 17 February 2020 | AIM Club | 1-6 | NISA |
| 17 February 2020 | Southern Sporting Union | postponed | TRAU FC |
| 18 February 2020 | AFC | 2-3 | Muvanlai Athletics |
| 18 February 2020 | NACO | 4-2 | Ganggam SC |
| 19 February 2020 | United Khawzim Brothers | 1-0 | KLASA |
| 19 February 2020 | NEROCA FC | 3-1 | Yarkhok United FC |
| 20 February 2020 | AIM Club | 2-5 | Young Physique's Union |
| 20 February 2020 | Southern Sporting Union | 2-0 | Sagolband United |
| 21 February 2020 | AFC | 1-4 | NISA |
| 22 February 2020 | Ganggam SC | 1-3 | Muvanlai Athletics |
| 22 February 2020 | NEROCA FC | 6-1 | DM RAO |
| 23 February 2020 | AIM Club | 2-1 | KLASA |
| 23 February 2020 | Southern Sporting Union | 1-1 | Yarkhok United FC |
| 24 February 2020 | AFC Thoubal | 1-1 | Young Physique's Union |
| 24 February 2020 | NACO | 0-3 | Sagolband United |
| 26 February 2020 | Ganggam SC | 1-2 | NISA |
| 26 February 2020 | AIM Club | 0-5 | United Khawzim Brothers |
| 27 February 2020 | Southern Sporting Union | 1-0 | DM RAO |
| 27 February 2020 | AFC Thoubal | 1-1 | KLASA |
| 28 February 2020 | NACO | 0-1 | Yarkhok United FC |
| 29 February 2020 | Ganggam SC | 2-1 | Young Physique's Union |
| 29 February 2020 | Muvanlai Athletics | 0-1 | Sagolband United |
| 1 March 2020 | Southern Sporting Union | 2-2 | NEROCA FC |
| 1 March 2020 | AFC Thoubal | 3-3 | United Khawzim Brothers |
| 2 March 2020 | NACO | 1-0 | DM RAO |
| 3 March 2020 | Ganggam SC | 2-0 | KLASA |
| 3 March 2020 | Muvanlai Athletics | 2-1 | Yarkhok United FC |
| 4 March 2020 | NISA | 3-1 | Sagolband United |
| 4 March 2020 | AFC Thoubal | 2-7 | AIM Club |
| 5 March 2020 | NACO | 1-6 | NEROCA FC |
| 5 March 2020 | Ganggam SC | 1-5 | United Khawzim Brothers |
| 6 March 2020 | Muvanlai Athletics | 1-0 | DM RAO |
| 6 March 2020 | NISA | 1-1 | Yarkhok United FC |
| 7 March 2020 | Sagolband United | 0-2 | Young Physique's Union |
news & updates
2020-21 Season [14th Edition]
UPDATE, November 4, 2020
"The All Manipur Football Association (AMFA) has stated that the intervention of Directorate of Youth Affairs and Sports over holding of football tournaments was undesirous."

read more: http://e-pao.net/GP.asp?src=Sport1..031120.nov20
UPDATE, October 30, 2020
Youth Affairs and Sports, Manipur has instructed AMFA to cancel the Manipur State League and other tournaments the FA were planning to hold in December due to the prevailing COVID situation and lack of SOPs for these events.

UPDATE, October 25, 2020:
The 14th Edition of the Manipur State League (2020-21) organised by All Manipur Football Association (AMFA) is likely to commence in the first week of December 2020.
2019-20 Season [13th Edition]
This is the 13th edition of the Manipur State League.
The tournament will be played on a home and away basis.
UPDATE, March 14 2020
The Manipur State League has been placed on hold due to the coronavirus outbreak at least until the first week of April 2020.
UPDATE March 7th 2020
The league will resume after a break for Yaosang.
UPDATE 17th February 2020
United Khawzim Brothers (UKB FC) have been fined 10,000 rupees and their player Jonathan Ginthanlal has been suspended for six months after the player was found not registered under the CRS.
UPDATE 9th February 2020
TRAU FC's matches have been rescheduled and dates will be announced later.
UPDATE 17th October 2019
Manipur State League has been postponed due to non-registration of players.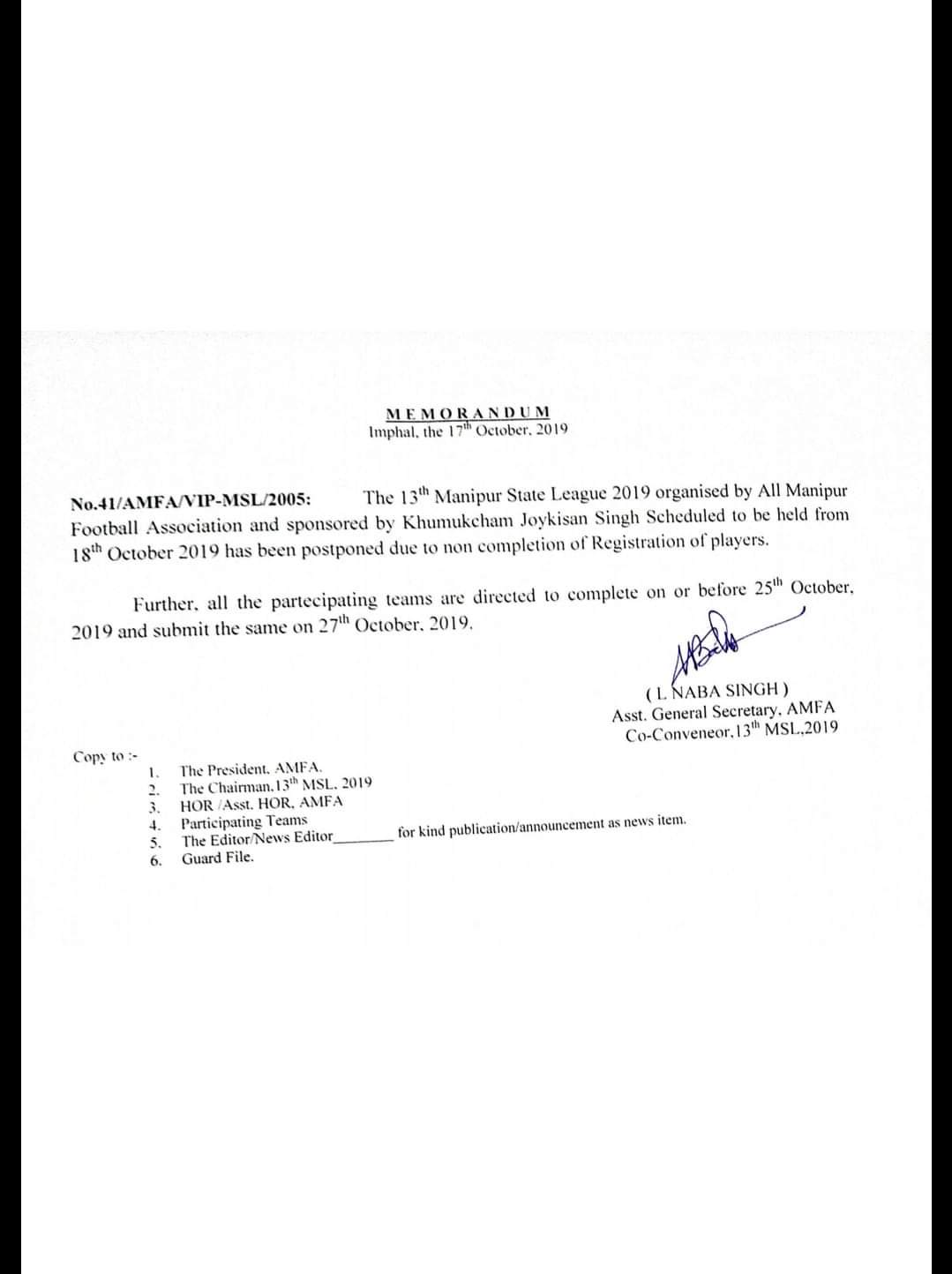 LATEST from the Manipur State League
Feed won't be displayed if there are no recent updates.